Electric vehicle giant supplants NXP on ABJ's annual list of biggest factories in regionTotal campus s.f.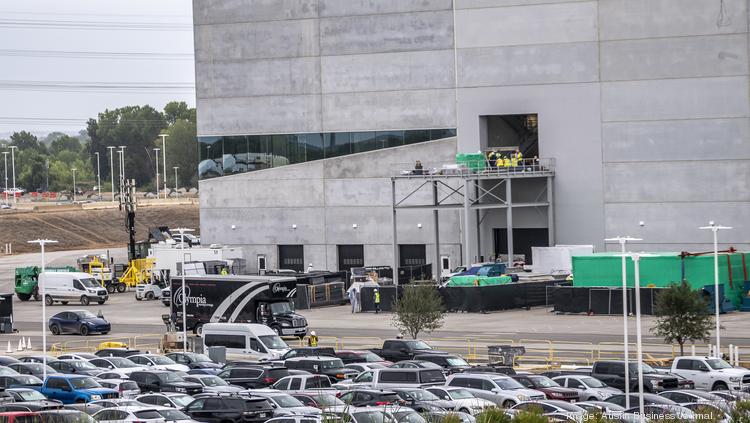 When Elon Musk announced in July 2020 that Tesla Inc. would build a billion-dollar gigafactory in eastern Travis County, expectations were immediately through the roof.
Some called it a generational project for Central Texas. Others pointed to the economic boost the electric vehicle giant would provide to the region in the wake of the coronavirus pandemic. And almost everyone agreed it would have ripple effects across the region for years to come.
Two years later, some of that has come to fruition by at least one metric: Tesla has taken the top spot on Austin Business Journal's annual list of the largest regional manufacturers, based on its estimated 4 million square feet of space.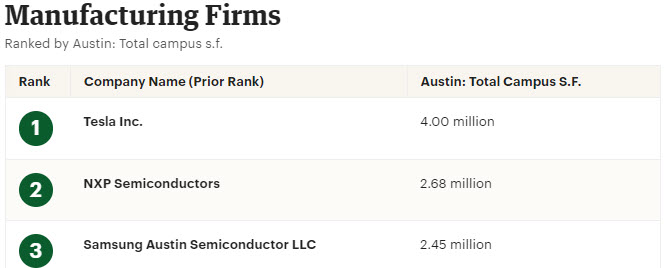 The wider "Tesla effect" is visible even farther down the list. At least one of the company's suppliers also made the ranking: No. 10 Simwon North America Corp., an automotive body manufacturer in Kyle. Others, such as CelLink Corp. in Georgetown and Plastikon Industries Inc. in Kyle, will be competing for space on next year's list.
In a couple of years, Tesla (Nasdaq: TSLA) has generated plenty of news in Austin. Musk moved the company's headquarters to the gigafactory from Northern California. Over the summer, he famously called the Austin plant a "money furnace" as production ramped up amid supply chain constraints. The company recently signaled it was retooling some products and achieved production milestones, such as producing in September its 10,000th Model Y SUV at the site.
Musk recently said on social media that Tesla was increasing production at its factories, despite the likelihood of an upcoming recession.
Representatives from Tesla did not respond to a request for comment, but others weighed in on the impact the company has — and could have — on Central Texas.
Ed Latson, CEO of the Austin Regional Manufacturers Association, said Tesla is already responsible for making the region "a destination for advanced manufacturing," adding that it has been exciting to see the project go from conversation to manifestation.
"I think you've seen delivery on creating one of the most advanced facilities in the world and a lot of suppliers follow to be near it," he said.
Latson added that Central Texas is "just at the start of it." The retooling of products and ramped up production should mean more economic impact on the way.
"Tesla really brought a lot of attention to Central Texas manufacturing and what they are doing here," Laton said. Furthermore, the companies that are following Tesla to the region are "really adding a whole new sector and technology and product that is going to be driving change for decades."
Gary Farmer, chairman of Opportunity Austin and president of Heritage Title Company of Austin, said Austin is "fortunate to have Tesla as a corporate citizen in Central Texas."
"Without question, Tesla's move to Austin has created an incredibly positive impact on our local and regional economies," Farmer said in an email. "Tesla's decision to locate in Austin created a magnet effect for automotive suppliers who need to be in close proximity to the Gigafactory. Additionally, we are seeing keen interest from other companies who want to be in or near the innovative ecosystem created by Tesla. We now have an entire economic sector focused on automotive manufacturing and innovation."
And the effect reaches beyond the Austin region. In August, Tesla leased 440,000 square feet of industrial space in San Antonio, according to CoStar Group data. San Antonio Business Journal reported Oct. 28 that, according to an unnamed source, the space was being used as a warehouse for manufacturing components supporting the Austin gigafactory.
Near the Texas Gulf Coast, Tesla earlier this year submitted applications for incentives to potentially build a lithium refinery. On an Oct. 19 call with analysts, Musk and other executives confirmed they were pursuing the refinery — Drew Baglino, Tesla's senior vice president of power train and energy engineering, said the company was "putting our money where our mouths are" in terms of lithium battery engineering.