---
Why TRE Commercial?

How are we different?
TRE Commercial is a commercial real estate branch of Teifke Real Estate. In commercial real estate, it is all about making money as an investor (IRR, ROI, and Profit) not just buying a piece of property, building or business.
We are much more than realtors, but true real estate consultants/developers that do Land Banking, Land Packaging, Land Development and Building Development for ourselves and our clients. We also assist our clients with, Leasing, and Property Management as required.
TRE Commercial has the mindset of an investor and educator and have the "hands on" experience with all the steps and processes that allows you to pick the right property. It needs to be a decision based on an exit strategy and supported with Financial and Market data matching each clients' investment goals. We have done it and do it every day for ourselves and our clients, not just talk about it.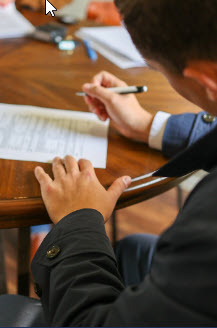 Below are the top 6 critical questions to ask to qualify a commercial purchase quickly. If your potential commercial realtor does not ask these questions upfront and help you decide, run away.
Size of deal ($ and/or #acres)
Scope what business you want to be in (Land Banking, Land Packaging, Land Development, Building Development)
Time frame/Exit strategy (1-3yrs, 3-5yrs, 5-7yrs, 10+ yrs),/ Cash flow or flip/sell, with or without 1031
Financing approach (Cash or leveraged, partners?) How do you plan to acquire
Geographical preferences/location (1 hour from my current home, In Texas, don't care)
Financial metrics criteria (minimum IRR, ROI, Cap Rate, Cash flow property or sale/flip)
TRE Commercial works primarily with qualified investors and investor groups to purchase raw land, buildings, and businesses; enhance its value; and sell/lease at a target set of financial metrics. We create a diversified set of real estate assets for our clients to compliment and diversify their other businesses and holdings.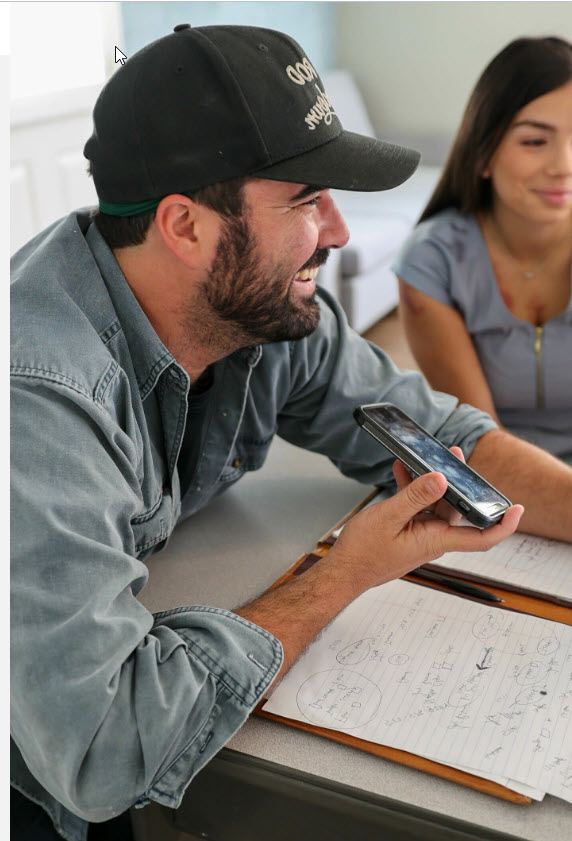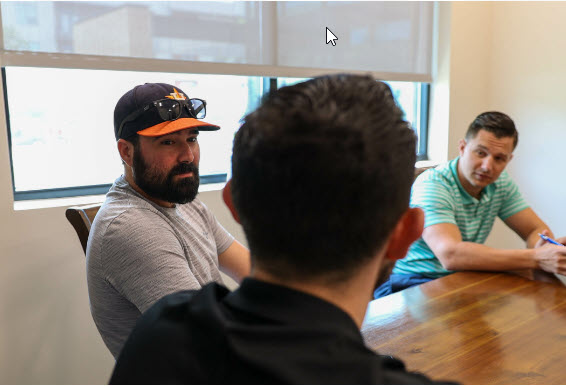 Our sweet spot
Our sweet spot and what we do best is finding tracts of raw land 20 to 3000 acres that lie in the path of growth by following the parameters of:
Location of new corporate business locations
Road expansion, New roads
New lakes
Availability and expansion of water, sewer, electric, gas, and communications utilities.
Regions of long-term Sustainable Population and consistent employment growth
Regions with diverse economies and potential for sustainable economic growth
Sub-markets that exhibit a limited supply of serviced inventory and properties nearing receipt of, or have recently received, the necessary zoning for development.
We then add value as directed by our clients based off their exit strategy and timing.
Our results
As an example, we anticipated and bought 352 acres within 3 miles of the east Austin, Tesla plant new location; selling it 22 months later at a $14M profit with an initial investment of $8M. (i.e. follow the new businesses)

Over the last 18 months we have bought and sold over $82M and 2100 acres in DFW, North Texas and Central Texas. We have also fully entitled many of these properties for our clients, managed and gone vertical in building retail strip centers and a corporate headquarters location totaling over 30,000 sq ft. Also, we assisted in developing and selling 1 to 5 acre pad sites as well as leasing out these retail and office spaces.

We have built an impressive set of Partners ( See Resource/Partners Tab) that allows us to get all of this done. This is not a 1 person process, but you need a team of qualified people around you to be successful.
Advantages of Land Investment working with TRE Commercial
The TRE land asset portfolio provides alternative investment opportunities for Land Packagers and Land Developers. TRE provides developers with numerous land opportunities that span a wide geographic area in Texas and include a variety of property types for future development, from single and multi-family residential to commercial and industrial.

TRE's selection of development land is based on our front-end acquisition process coupled with our years of experience in land management. We maintain a diverse inventory of developable land in Texas positioned for residential, commercial and industrial use available to the building and developer industry.
Extensive Research Precedes Acquisition
Before purchasing land, TRE assesses trends and factors that drive demand for land, including population growth, job growth, and future housing demand. GIS technology is utilized to recognize development limitations, including environmental, political, and infrastructure constraints. Additionally, we engage third-party experts to conduct due diligence on the market and individual parcels targeted for acquisition. Through this methodical land buying approach, we identify parcels expected to be poised for future development in order to generate disposition proceeds for investor returns.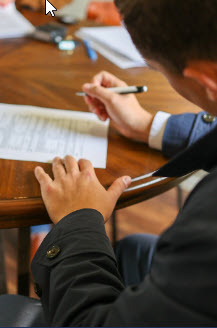 A Pipeline of Pre-Development Land Assets
TRE's team of experts works to create a healthy backlog of superb Land Assets for our investors to select. Our strategy is to target land expected provide excellent financial returns matching each investors strategy.
Exit Strategy
TRE monetizes land assets on behalf of our developers by having an exit-focused agreement with national, regional, or local builders and developers. We have extensive knowledge and experience in identifying buyers for our land assets.
---
Development
How this works
You will understand when you work with us, that we have the mind of an educator, not of a real estate sales organization. Below is a set of short graphical representations of the industry standard CCIM organizational processes we follow to show you how this all works . This will help you in your Commercial Real Estate journey if you are not familiar or new to Commercial Real Estate. We want you to be a well informed/educated buyer or seller.
Let the Knowledge transfer begin !
Let's get started with an update for you seasoned commercial investors or some new concepts for those new to Commercial real estate.
First Step : You need to decide as a commercial investor, What business do you want to be in?
From looking at the the chart below, there are 7 distinct verticals starting with Land Banking and ending with Land & Building Redevelopment. Each vertical requires a distinct set of skills and teams in place to be successful. Buying a property just starts the process as an investor. You can be in all of these verticals as an investor or just one of them. The Development Matrix does however flow from left to right starting with raw land acquisition, but you can enter anywhere if the other steps have been already done for you. Residential Home builders in the past have entered at the Building Development Phase and have not had the tolerance to hold land as a capital asset, but to enter the process once the Land Development step is complete. They then just go "vertical" with building their new homes in 3 to 5 months and can get their profit out quickly.

---
Second Step: What is the Order?
If your strategy is to work in all the vertical phases of Land Banking though Building Development, you better have deep financial pockets.
Once you decide which vertical phase(s) you want to be involved in as an investor, there is an order (left to right) you follow. As the chart depicts at each stage, you spend money, take on more risk, and hopefully create more value.

---
Land Banking – Finds the right property
A Land Banker acquires great commercial land with high financial return potential by conducting in-depth research of the local area incorporating real estate trends , zoning restrictions, nearby amenities, buyer demand and more. They understand the politics of the area and how the city ETJ or Tax free zones affects the ability to move at speed in order to hit the exit timing and financial strategy requirements. It is key to understand the water and sewer systems, opportunities for a MUD or PID designation, required Development Agreements and all environmental issues.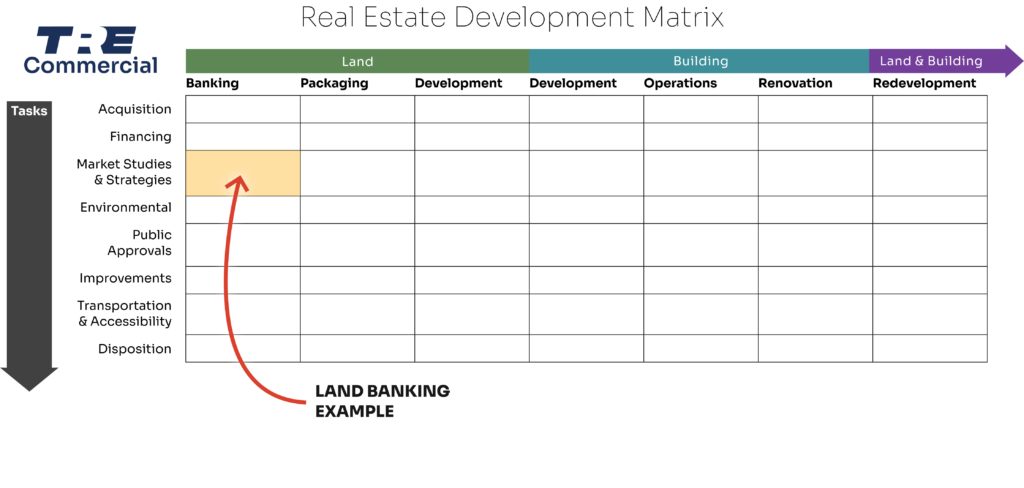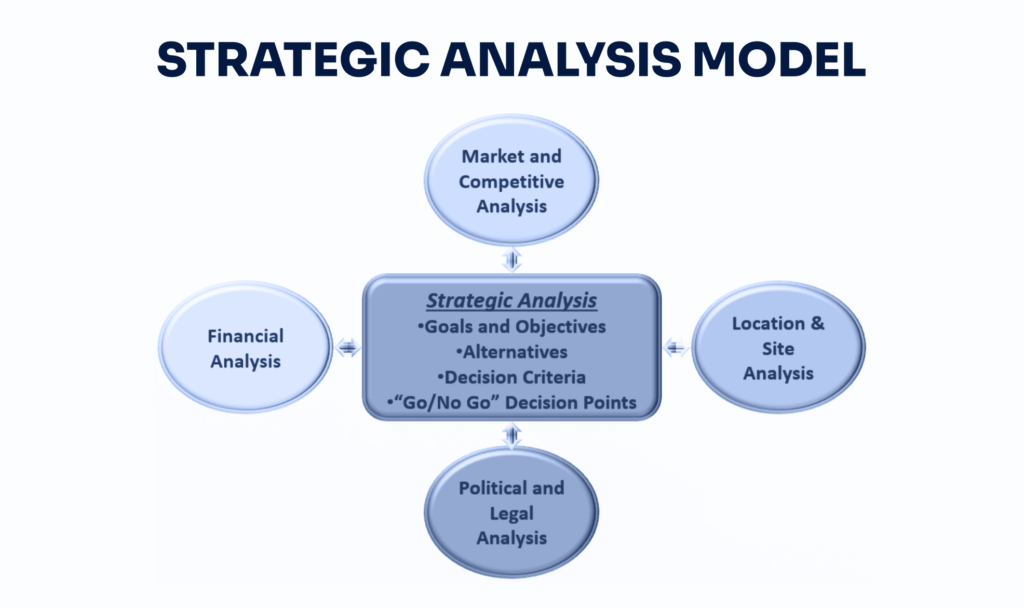 The Land Banker/Developer acquires or holds undeveloped or "raw" land that is believed to become attractive for future development because of general and broad market trends. You will work down the matrix with your development team.

In the next slide, you will see that you must have an established trusted/proven team of consultants consisting of engineers, attorneys, lenders, architects, appraisers, general contractors that work across the matrix.

In Land Banking, this example below shows the average percentage of time you will spend on each task.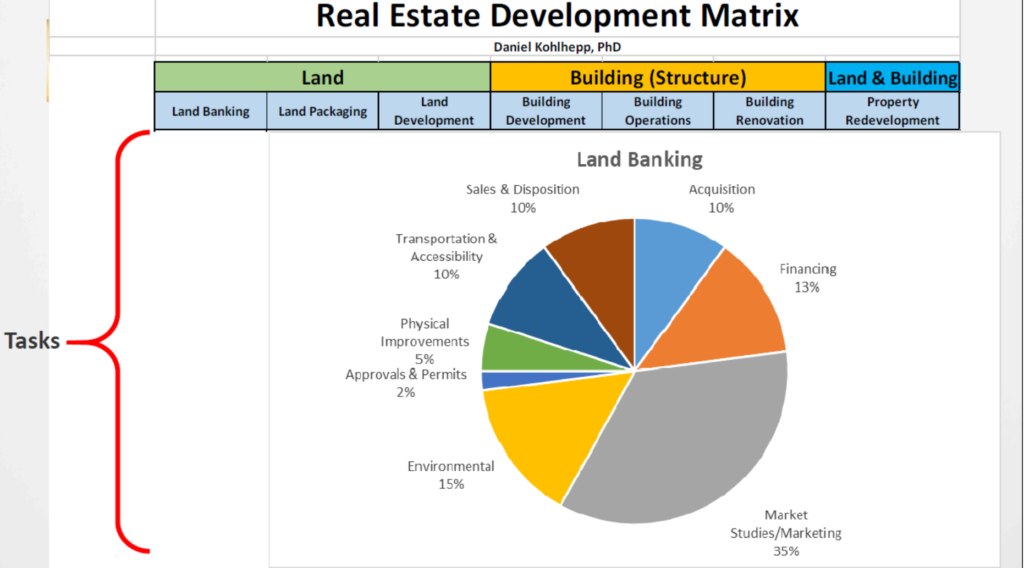 ---

Land Packaging– Creates Value (Paper)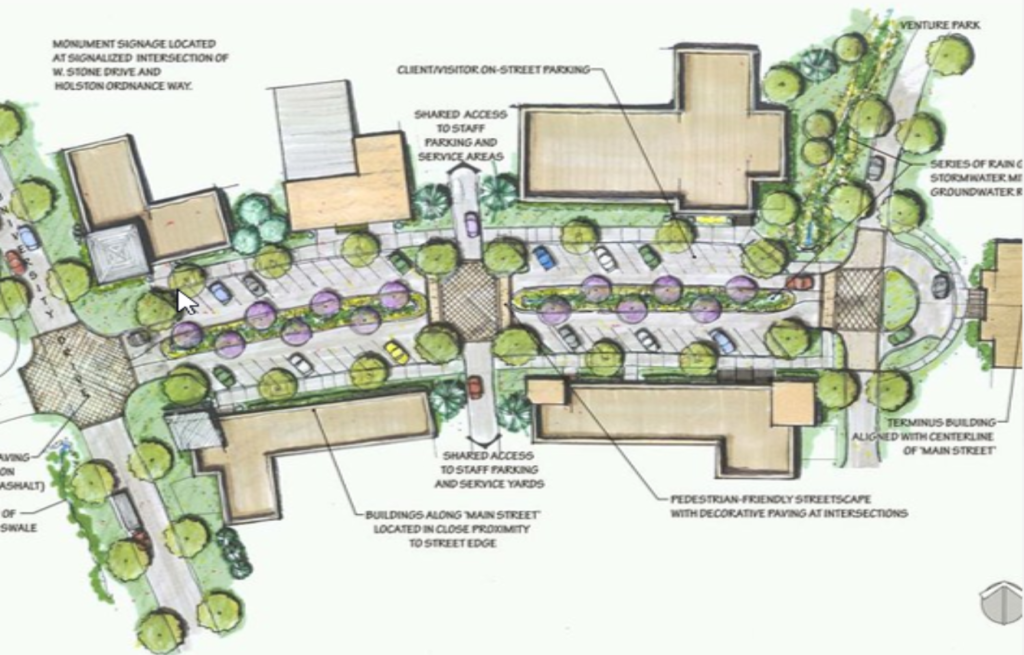 A Land Packager buys raw land from a Land Banker and improves the value of the land by obtaining:
Land Cost
Entitlement Cost
Hard Cost
Soft Cost
Contingencies
Reserves
Conceptual Land Plan
Environmental Studies
Zone Changes
Title Insurance
Surveys
---
Land Development – Builds the Infrastructure
A Land Developer takes all the paperwork, entitlements( how you can use the land) and approvals( Final Approved Plan) created by the Land Packager. The Land Developer puts a "shovel in the ground" to create the infrastructure to get the land ready to "go vertical" . Note: Going vertical means building a structure or structures.
Land Development involves financing and building all the roads, electric, gas, water, sewer, sanitary sewer, retention ponds, parks, common space and communications (internet) services.
You have seen the new home sub divisions that have the all the roads in place, nice flat lot sites of 50'x 120′ with 'a pedestal sticking up with water, sewer , electric connections ready to build a house on it. All that work was done by a Land Developer. The Land Developer sells these completed lots with all the infrastructure in place to a home builder, who goes vertical and builds the houses. This Phase/Vertical requires a lot of Capital $ and also a 1 to 10 year capability of a holding period as many of these projects are done in phases. Financing is critical to have in place before embarking in this area.
The difference to separate the good and bad Land Developers is: " Can they execute" and get it done in a reasonable time frame to make your stated investment returns/metrics Ask, What is their track record in the geography you are working in?
Expect all the elements below to be completed as part of your Land Development team.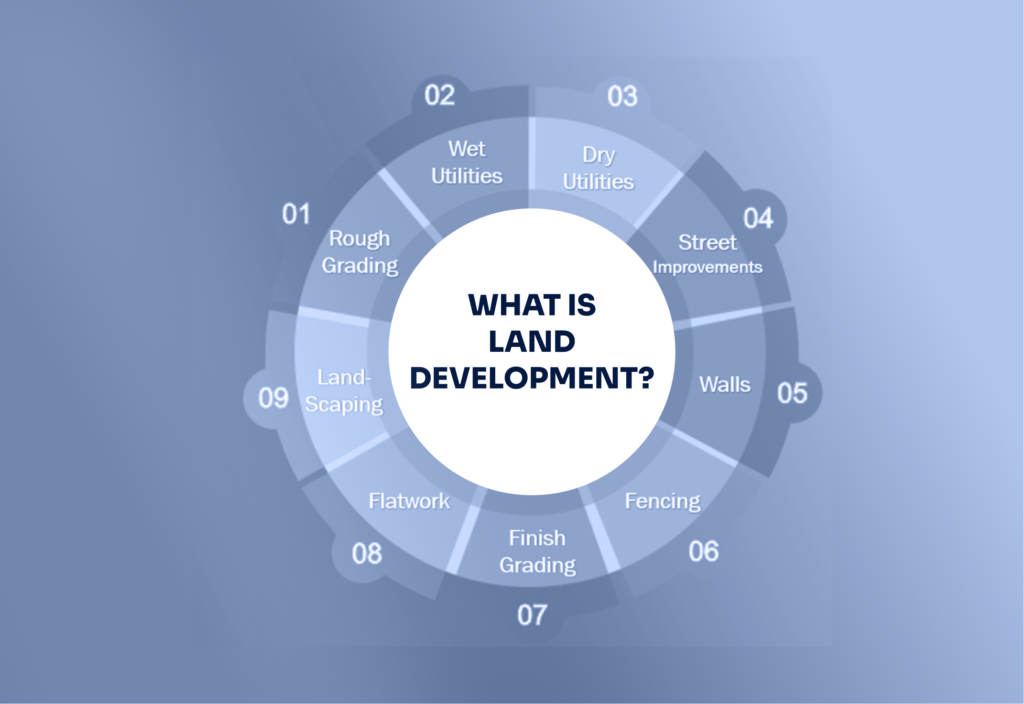 Building Development – Building the Building(s)
A Building Developer goes "vertical" and builds structures such as homes, apartments, warehouses, Industrial buildings, restaurants , and retail strip centers. This involves working closely with an architect, a set of structural, mechanical, electrical and plumbing Engineers and the city and county officials to design/get approvals, and build a structure (s). You may be the General Contractor such as a Home Builder, but most likely you are not. You provide the financing, oversight and guidance to get it done.
Once again what matters is can you manage the City, County, and General Contractor to get it completed on time, on budget.
The other verticals of Building Operations, Building Renovation and Land and Building Redevelopment can be discussed one one one at your convenience.
---
Brokerage
This simply means we can help you select, buy, sell, and/or lease/rent whatever real property you desire.
We are TRE Commercial, a part of Teifke Real Estate, a customer-focused, experienced, and professional business ally. CLIENT FOCUSED – Your needs are central to every decision we make and every step we take. We start with our top 6 questions and help you build a strategy for long term success DEDICATED TEAM – Competent team members work together every step of the way. We have built an impressive set of Partners and Resources to fulfill and handle the entire value chain process of Commercial Real Estate. HIGHLY PROFESSIONAL – When working with TRE, you can expect the highest standards of professionalism and ethics in the industry.
Large landowners and Investor groups sometimes come to us and request an independent Brokers Opinion of Value (BOV) which we provide to supplement their processes as consultants.
We focus on Commercial Real Estate in the areas of Land Banking, Land Packaging, Land Development and Building Development. We also assist our clients with Building Operations, Building Renovation, and Building & Land Redevelopment. Additionally , we help find properties for their personal use such as Residential Homes, Lake Homes and Farm & Ranch Properties.


---
Consulting
To help our clients achieve successful outcomes and enhance the value of their business, we leverage emerging technology and analytics to produce deeper, transformative insights in areas such as valuation, due diligence, and portfolio optimization. Our Real Estate Consulting practice helps companies turn critical and complex real estate issues into opportunities for growth, resilience, and long-term advantage.

With a deep understanding of the interplay between asset valuation, capital markets, and today's changing real estate marketplace issues, we offer clients innovative ideas about how to enhance their results and get ahead of key issues. Our highly specialized team provides a full spectrum of real estate valuation services.
Our range of services includes Due diligence, market studies, portfolio services, lease advisory, and more.
Our clients trust us—and our in-depth experience—to provide them with deep, forward-looking insights that can help them strategically plan and make decisions with confidence.
TRE's real estate consultants can help you turn critical and complex real estate issues into opportunities for growth. From business owners and investors to lenders and corporate groups, we offer you the experience, know-how, and strategic planning that helps lead to better decisions.
Virtually everything you need to enhance the value of your business, you'll find at TRE.
---
Real Estate Investment
Our Approach
Our approach for development land begins with conducting in-depth research of the local area incorporating real estate trends, zoning restrictions, nearby amenities, buyer demand and more. Utilizing third-party entities including developers and homebuilders, TRE identifies the acquisition of development land in the path of growth that meet the following preliminary land criteria:
Regions of long-term sustainable population and consistent employment growth.
Regions with diverse economies and potential for sustainable economic growth.
Sub-markets that exhibit a limited supply of serviced lot inventory and properties nearing receipt of, or have recently received, the necessary zoning for development.
The Process
TRE's goal is to accommodate homebuilders and commercial developers who acquire land and initiate development. We utilize our core capabilities to manage the entitlement process and prepare land for development.
Land Sales
TRE's strategy is to monetize land assets on behalf of our investors by selling to national, regional, and local homebuilders and developers or institutions through various exit structures.
---
Entitlements
Entitlements are the legal method by which an individual or entity obtains the rights to develop properties for a specific use. Because the entitlement process is lengthy and complex, it's critical you have someone on your side to determine the feasibility of your project and increase its market potential.

LAND ENTITLEMENT SERVICE OFFERINGS
Coordination with Local Governments
Pre-Development Meeting Coordination and Representation
Representation at Public Hearings
Stakeholder Outreach
Subdivision Platting and Re-Platting Processing
Major Thoroughfare Plan Interpretation and Amendments
Right of Way / Thoroughfare Closures
Land Use Variances
Zoning and Rezoning Issues
Planned Development Districts and Site Planning
Comprehensive Plan and Area Development Plan Interpretation and Integration
---
Landlord/Tenant Representation
By combining our ownership/development style with integrity and a successful track record – as owners and project leasing agents – we help clients make the most sound and informed decisions possible. Brokerage Services TRE Offers:
Commercial Property Sales & Marketing
Leasing and Landlord Representation
Site Selection
Tenant Representation