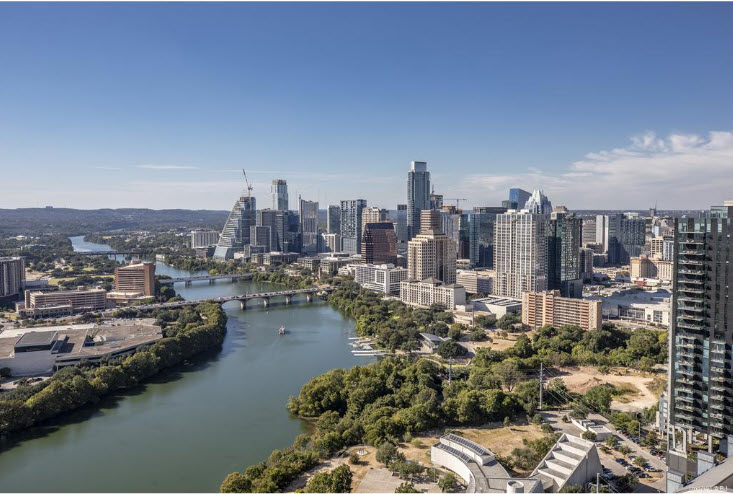 Staff Writer, Austin Business Journal Nov 1, 2022
Austin is a millennial magnet, with tens of thousands moving here last year
Austin's millennial population grew more than any other city in the nation last year, according to data collected by personal finance website SmartAsset.
The findings, released Oct. 27, suggest that the city's strong economy and standard of living continue to attract huge numbers of people at the height of working age.
However, other studies indicate the dramatic rise in the cost of living in the city and its shortage of housing continue to impede first-time homebuyers, many of whom are millennials.
Nearly 24,000 millennials — those born from the early 1980s to the mid-1990s — moved to Austin in 2021, according to SmartAsset.
That compared with the more than 13,400 that left, according to SmartAsset's analysis of U.S. Census Bureau data. That gave Austin positive net migration of about 10,500, No. 1 in the nation. The year prior, Austin ranked No. 4 in terms of net migration.
Denver actually had greater in-migration of millennials last year, according to SmartAsset, but had lower net migration because of a greater outflow of people.
A key takeaway from the study is that Florida and Texas are becoming millennial hot spots — they were home to four of the top 10 cities in the ranking.
Infographic via SmartAsset: The personal finance website used Census data to determine where millennials moved in the U.S. last year.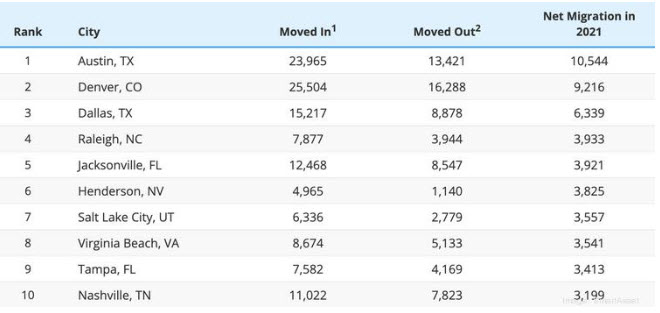 According to the study, larger cities are experiencing a decline in millennials. In 2021, New York City lost more than six times as many millennials as any other place, resulting in net migration of -79,800. Chicago ranked No. 2 for cities losing the most millennials, with net migration of -13,300.
Seattle, a perennial winner on past lists, dropped significantly in the rankings, with net migration of -670.
"After years of lockdowns and limited gatherings, millennials are eager for a change of scenery," stated Ray Marek, a public relations manager with SmartAsset.
These data are useful to a wide variety of businesspeople, from Realtors to shop owners to marketers.
And they provide context for the wider growth trends seen in Austin in recent years. The five-county metro grew faster than any other, in terms of population, every year from 2010 to 2020. Many businesses have also relocated to the area or established large facilities, fueling a development boom, from Tesla to Samsung.
That kind of change comes with growing pains, including a decrease in affordable housing options. Observers say that is partly why Austin has fallen on U.S. News & World Report's list of the best places to live.
A recent study found that renters in Austin and in 14 of the 50 largest U.S. cities earned less than half the income required to buy a starter home following the latest increase in interest rates.
Renters in Austin earn about $56,000 a year on average, while the income required to afford a mortgage on a typical entry-level home is nearly $130,000 — a difference of about $73,000, according to the study by Point2, an international real estate search portal that is part of Yardi Systems Inc.
Austin also ranks among the most expensive cities in the U.S. for the first year of homeownership. Earlier this year, SmartAsset determined that on average Austinites can expect to pay $191,611 in their first year of homeownership — a little less than in Boston ($201,833) but more than Denver ($173,137).