Texas Instruments' 300-mm semiconductor wafer fabrication plants to be built in Sherman mark the largest private sector economic development project in Texas history. The potential investment of $30 billion could create up to 3,000 jobs over time, the company says.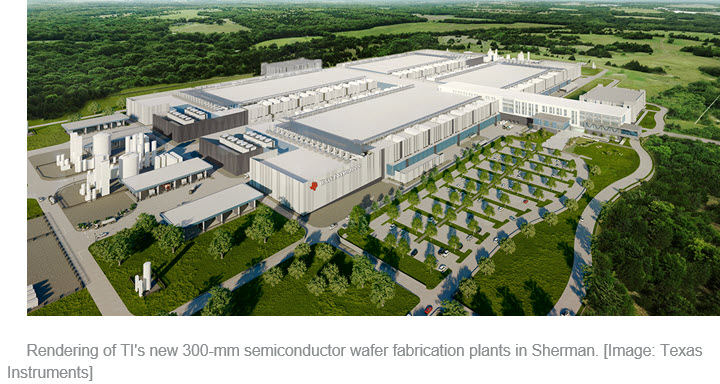 BY DAVID SEELEY • MAY 18, 2022
A worldwide semiconductor shortage has plagued global supply chains for the last two years and counting. But a groundbreaking in Sherman today could be a big step toward ensuring capacity right here in the U.S. for decades to come.
Texas Instruments broke ground today on its new 300-mm semiconductor wafer fabrication plants (or "fabs") in Sherman, 70 miles north of Dallas.
Texas Governor Greg Abbott and Sherman Mayor David Plyler joined TI leaders in the groundbreaking ceremony, marking what TI calls "the largest private-sector economic investment in Texas history."
Potential $30B investment supporting up to 3,000 jobs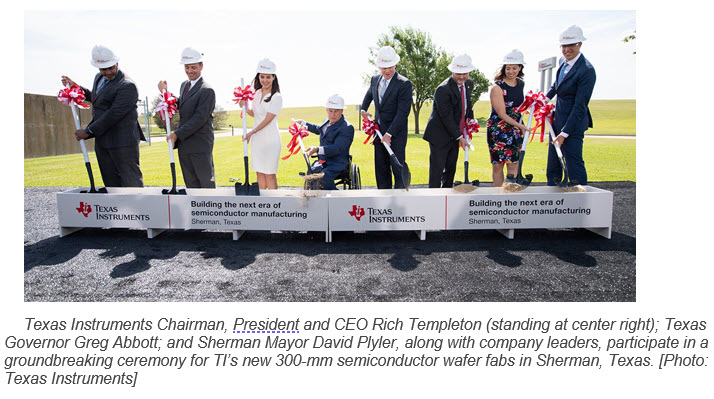 The potential $30 billion investment by TI includes plans for four fabs to meet demand over time while supporting up to 3,000 direct jobs. The new fabs will manufacture tens of millions of analog and embedded processing chips daily, for use in "electronics everywhere," the company says.
"Today is an important milestone as we lay the groundwork for the future growth of semiconductors in electronics to support our customers' demand for decades to come," TI CEO Rich Templeton said in a statement. "Since our founding more than 90 years ago, we've operated with a passion to create a better world by making electronics more affordable through semiconductors. TI is excited to bring advanced 300-mm semiconductor manufacturing to Sherman."
Mayor Plyler said today's event marks "the next era of semiconductor production in Sherman that promises to create decades of economic opportunity and improve the quality of life for the region."
Investment in internal 300-mm manufacturing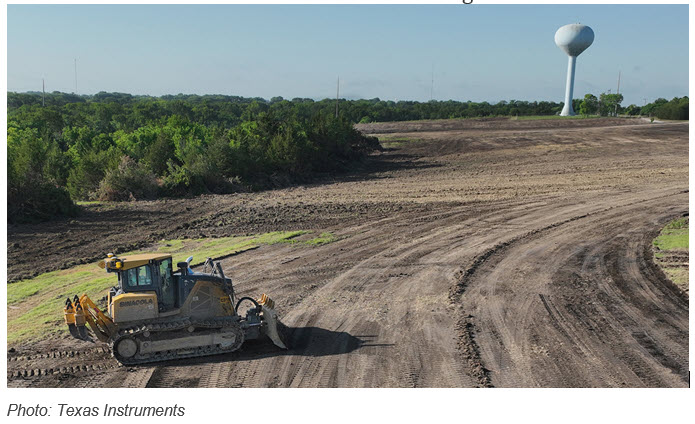 TI says the huge investment in the Sherman plans reiterates its commitment to expanding its internal manufacturing capacity for the long term.
But don't look for the plants to solve the current chip shortage overnight. Production from the first Sherman fab is slated to begin in 2025. The fabs will complement TI's existing 300-mm fab in Dallas and a soon-to-be-completed fab in Richardson, which is expected to start production later this year. Another TI fab in Lehi, Utah, is expected to begin production in early 2023.
"These investments in long-term manufacturing capacity further extend the company's cost advantage and provide greater control of our supply chain," Templeton said in the statement.
What's a semiconductor wafer?
Not to be confused with a semiconductor chip, a semiconductor wafer is a thin, circular slice of semiconductor—for example, crystalline silicon—which serves as the base or substrate for microelectric devices built in and upon the wafer. A 300-mm wafer is about 12 inches in diameter, about the size of an LP record album.
According to Forbes, Texas Instruments decided on the 300-mm size for its wafers because "output from 300-mm fab is 40% less expensive than chips produced using the 200 mm process, which is commonly used by [Texas Instruments'] competitors."
"Moreover, according to the company, the returns on investment on 300-mm fab are likely to be higher for analog use cases," Forbes wrote, "as it could be operated for as long as 20 to 30 years, something that the company noted would not be possible for digital chips."
The inaugural October 8th Texas Blockchain Summit could be a watershed event for making Texas "the jurisdiction of choice" for Bitcoin and other digital currencies. Lee Bratcher, president of the Texas Blockchain Council, will host a wide array of speakers including Texas Senators John Cornyn and Ted Cruz and Wyoming Senator Cynthia Lummis.