The Proposed 4 Land Highway Expansion:
The 1,290 acre (combined 609 and the 681 tracts) represent more than 10,000 LF of Highway Frontage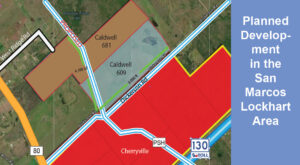 SIZE: 609.35 acres
LOCATION: Caldwell 609 is located at 1810 Dickerson Road, Lockhart, TX, Caldwell County, just 8 miles from downtown Lockhart, 10 miles from San Marcos and 44 miles from downtown Austin. The property is just under 3 miles from Hwy 130 and 1.5 miles from Hwy 80/San Marcos Hwy.
CITY/ETJ: Martindale ETJ
SCHOOL DISTRICT: San Marcos ISD
TAXES: 2021 Caldwell County Taxes – $1,249.07. (Parcel ID 28368) Ag Exemption.
FRONTAGE: Approximately 1.55 miles of frontage on Dickerson Rd. (CR 107)
UTILITIES: The property is in the Canyon Regional Water Authority and the Maxwell SUD. Maxwell WSC supplies the 2" water line along Dickerson Rd frontage, and there is one water meter. No Sewer. The cost of upsizing the water line in Dickerson Rd to 4" has been quoted at approximately. $50,000.
LAND FEATURES: Gently rolling hills make up the terrain of Caldwell 609. The property has been well maintained and cleared, allowing multiple open pastures/areas.
WATER: Caldwell 609 has one large pond that is approximately 11.68 acres and four smaller ponds. A seasonal creek runs through the middle of the property, and Little West Fork Plum Creek runs through the northeastern portion of the property for +/- 2,904 ft.
MINERALS: None
IMPROVEMENTS: There is a gated entrance off Dickerson Rd.
COMMENTS: The highlights of this property are its location, developability, and proximity to significant future developments. Directly south of the property sits the Cherryville Development, a 3,100-acre mixed-use planned development with an existing MUD. Plans include 4,000 single-family homes and commercial, retail, and industrial components. Just north of the property lies the Turner Crest tract, a +/-2,700-acre future master-planned community.
RESTRICTIONS: None