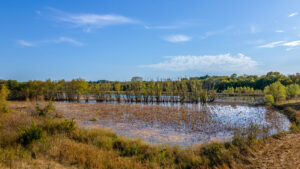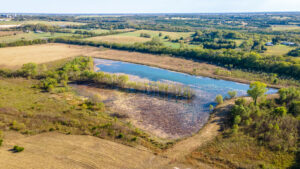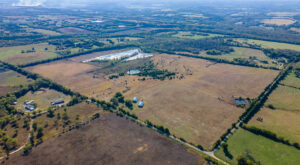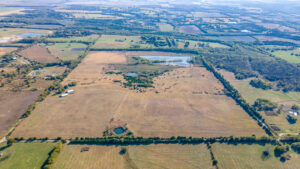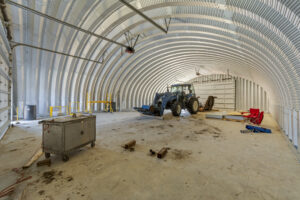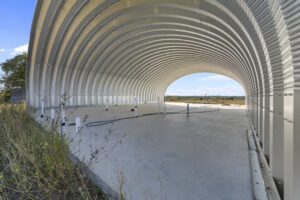 Overview
Attention duck hunters! This property features an 11 acre lake and two ponds and is well known for ducks. Property currently has a wildlife habitat tax exemption and has two 2,320 square foot high quality Quonset hut structures. One is for an equipment building and the other is plumbed and ready to build a truly unique home with an unbelievable view!
This property is just to the west of Windom, TX about 10 minutes from Bonham, TX and is about 3 miles, as the ducks fly, directly south of the new Bois D' Arc Lake. Buyer. Agent to verify all information.
There is a stocked, spring-fed pond on site.
2 Quonset huts 2420 sq ft each
There are two Quonset Huts. These huts were manufactured by Crown International Steel Building System INC. Located at 400 Island Avenue ,McKees Rock, PA. Each building is an S40-16 model with 29 arches, a snow load of 23, and a wind load of 142. Each building has a width of 40 feet, a length of 60 feet, and a height of 16 feet. They are constructed of 22/20-gauge steel. They each have two end walls. The barn end walls have been completed in the first hut. The hut with plumbing does not have the end walls in place. Those walls are stored in the building ready for installation.
Each of the Qwonset Hut buildings is bolted to an engineered concrete slab with piers. The foundations were constructed by David Caldwell of CRL Construction. The foundation was constructed with rebar and has piers.
The building was constructed by: Merrell Steel Erectors, LLC ;General Contractor/ Steel Building Broker, 815 Monk Street, West Plains, MO 65775
There are two entry doors in the barn. The doors are 3070 Diamond Preassembled doors. There are also two more 3070 doors stored in the barn for the second hut. The two garage doors were purchased from and installed by DHPACE. The door's width is 18' with an opening of 17'-10". The clearance is 12'. The doors are 18-0 x 12-0 Clopay model 3200 insulated sectional doors. They have a standard white finish, a 3' standard lift track. The wind load rating is +25/-28 Psf.
The second unfinished ends Quonset hut is plumbed for water and sewer/septic tank in the slab. The proposed home interior concept design is available in the Documents section.
Public Driving Directions:
From Bonham travel East on SH 56 through Dodd City to CR 2970. Turn left. Property will be about one half mile North of SH 56 on your left.